Links
  CIPCO System Members
  Corn Belt Power Cooperative

Barker Lemar Engineering Consultants provides complete geoexchange systems set-up including conductivity well tests, well and loop installation and purging, Clean, reliable and on-time. All operators are fully licensed and certified."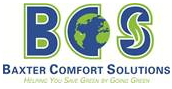 Baxter Comfort Solutions has been involved with Geothermal systems for over 15 years (we installed our first unit in 1994), we are the area leaders when it comes to these revolutionary, energy-saving (and money-saving) systems.

Since 1946, Plumb Supply Company has established a rich tradition of honesty, integrity, and trust in our Iowa communities. The backbone of our tradition is based on the following fundamentals: business ethics, building strong customer relationships, and providing unequaled product and service value. Throughout our history, we have maintained a focus on the business we know best; as a wholesale distributor of plumbing, heating, air conditioning, and pipe, valves, and fittings.

TCC Materials is a manufacturer of Thermaseal Geothermal Grouts which provide a one bag solution to all grouting needs. We have served the building materials industry in excess of 50 years, establishing a solid reputation for providing quality product and service.